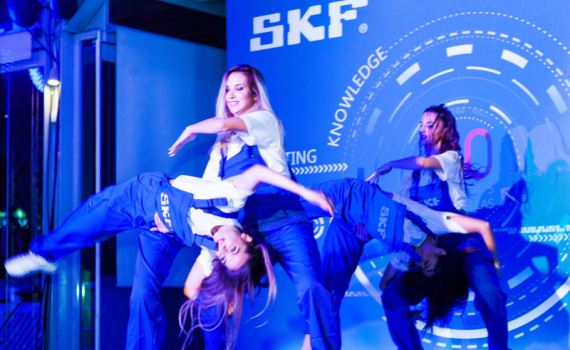 SKF Hellas celebrates its 90th anniversary
On the 26th of November 2015 an anniversary event was held to celebrate 90 years of operation of the SKF Hellas office.
The event was attended by partners and customers from all business segments SKF is serving – Heavy Industry, Energy, Marine, Transportation, Automotive – and of course SKF's employees and Authorized Distributors. The Ambassador of Sweden in Greece H.E. Charlotte Wrangberg was among the honored guests of the event.
The event was opened by Mrs. Rania Patsiopoulos, Managing Director of SKF Hellas who highlighted the local office's journey from 1925, when it was first established in Greece. Being the 27th office that SKF has opened, SKF Hellas, from the very beginning, took an active part in the industrial and economic rebuilding of Greece by doing something simple, but at the same time, complex – making things rotate.
With advanced knowledge, continuous innovation and close relationship with the customers, SKF Hellas has been playing a vital role to the manufacturing and production structure of Greece since then. During this journey, SKF developed additional technological platforms around the bearing– lubrication systems, seals, technical services and mechatronics – having always in mind its mission, to equip the world with SKF knowledge.
SKF's role is to continue to be the leader in its field and this can be done by continuously developing new technologies. For this reason, two specialists were invited to speak on bearing evolution.
First to speak was Dr. Stathis Ioannides, Visiting Professor in the Mechanical Engineering Department of Imperial College London and a world acknowledged expert in tribology. In 2010 he was presented with the Leonardo da Vinci award for his advanced work in the field of tribology. Professor Ioannides presented the bearing evolution over the last 100 years and SKF's contributon to this development. As a senior engineer in SKF, he led the development of the SKF life theory since 1983, which became the new ISO Standard for the calculation of rolling bearing life in 2007 and is used today by all the bearing companies in the world.
Second speaker was Mr. Hugo Carlén, manager of SKF Encompass Field Performance Programme. He presented the latest innovation by SKF on bearing selection model, which will come to change the global standards once again. The SKF Encompass Field Performance Programme which entails the new Generalized Bearing Life Model will help engineers to a better bearing selection, by a more realistic bearing rating life considering more of the influencing factors. The new model is a major step forward for the industry and will play a vital role in helping customers to match bearings to application conditions with even greater certainty, resulting in improved bearing life and reduced operating costs.
After the presentations, the guests had the chance to enjoy the show, the live band and to mingle with the speakers and all the participants.