The SKF anti-fretting paste LGAF 3E is a well-proven mounting paste that helps to reduce fretting corrosion in metal to metal contact areas that are subject to vibrations or small relative movements.
The new 35 gram tube is designed to be readily available in every tool case for mounting bearings or protecting other metal to metal contact areas from fretting corrosion. Since only little amounts are needed for effective protection, the 35 gram tube is sufficient for many installations. More than 25 installations of 23120 CC/W33 can be performed with a single tube.
LGAF 3E 35 grams tube box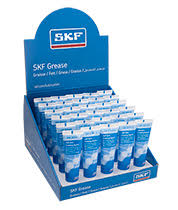 Effective protections against fretting corrosion
Small pack size for tool cases
High economics in application
Recommended for all bearing installations
Usable for many other applications
Typical applications
The most common usage of LGAF 3E is for mounting bearings. Applying the anti-fretting paste in the loose fit between the bearing and the housing (or shaft) significantly reduces fretting corrosion and helps to increase the service life of the bearing, shaft and housing. LGAF 3E reduces fretting corrosion in the loose fit of bearings.
Less corrosion makes bearing dismounting easier. Reducing corrosion repair work helps to maintain a good bearing fit.
The contact area between the TIH heater core and the yokes needs regular maintenance to ensure long term performance. Cleaning the contact area and applying LGAF 3E help to
reduce corrosion of the contact surface in between core and yoke,
reduce noise of the heater in operation and
maintain high heater performance over time.
SKF VIBRACON chocks are delivered with protective layer of LGAF 3E and are ready for use. After equipment re-installations where the spherical surfaces were separated and cleaned, a thin layer of LGAF 3E needs to be applied to prevent fretting corrosion and keep the chock in a good condition.