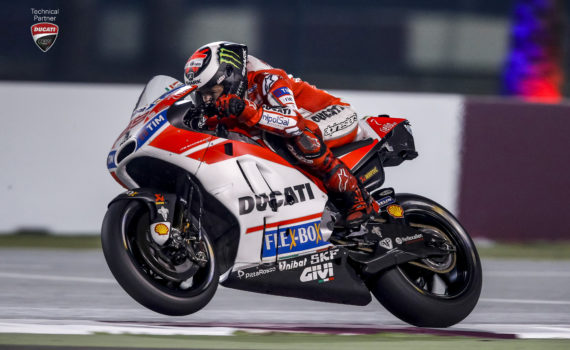 SKF helps the Ducati Team gear up for MotoGP 2017
SKF's high performance parts and specialist technical knowledge are once again helping the Ducati Team prepare for success in this year's MotoGP World Championship. The season started on March 23 with the Grand Prix of Qatar on a track that last year saw the Italian motorcycle manufacturer not only place second thanks to Andrea Dovizioso but also claim the circuit's top speed record with Andrea Iannone's 351.2km/h. The 2017 Ducati Team line-up will see five-time world champion Jorge Lorenzo from Spain join Italian Andrea Dovizioso for the 18-round season.
"Building on a more than 18-year strong strategic partnership with Ducati Corse, our advanced engineering solutions and bearings expertise have long helped Ducati achieve racing excellence including last year's amazing results," Alberto Guerrini, who is responsible for the Ducati account at SKF, said. "With the technical advantages of our solutions, such as low friction, long service lives and robustness, we are confident Ducati will enjoy another fantastic season."
SKF is supporting Ducati with the design and validation of a broad range of specialist components that boost the performance of its purpose built racing machines. The custom engineered parts include deep groove and angular contact ball bearings, cylindrical, spherical and needle roller bearings, hub bearing units and inner rings.
The bespoke parts are developed to withstand the tough demands of the motorsport sector and feature special materials, such as viton, and heat treatments for consistently reliable, high precision operation. SKF also analyses the parts returned from races and track tests in dedicated laboratories to ensure every component is continually being improved further and optimised.
Mauro Grassilli, Marketing and Sponsorship Manager of Ducati Corse, said: "With SKF's commitment to the constant development of innovative customised solutions and the flexibility of its factories and supply chain for urgent deliveries, the partnership we have with them is a vital element of our success on the track. Thanks to its continued technical support and dedication we have no doubt that this season will be better than ever."