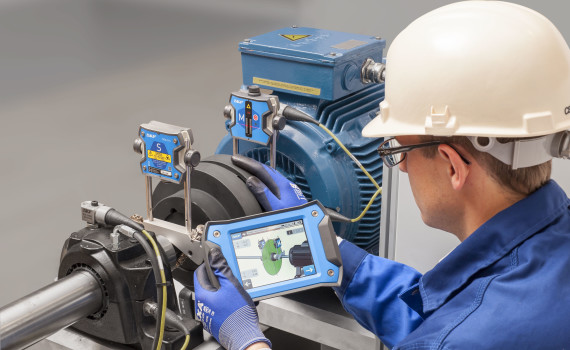 SKF offers new laser shaft alignment system
Gothenburg, Sweden, 15 April 2015: SKF today announced the introduction of the TKSA 41 shaft alignment tool with enhanced measuring and reporting capabilities. Developed for use in industrial applications utilizing rotating machines, the instrument helps customers identify and correct shaft misalignment to improve equipment uptime and lower maintenance costs. The TKSA 41 has been designed to make shaft alignment easy, even for operators with minimal experience.
Comprised of two wireless measuring units, large detectors and bright lasers, the TKSA 41 provides precise measurements, even in challenging conditions or difficult-to-access applications. Its liquid crystal display (LCD) with touchscreen navigation makes alignment fast and simple, and its free measurement feature allows alignment measurements to start at any angle and finish with a total angular sweep of only 90 degrees. The TKSA 41's live view supports intuitive measurements and facilitates horizontal and vertical alignment corrections.
Because the instrument enables hands-free measurement by detecting when the heads are in the correct position, operators can use both hands to rotate and hold the shafts in place. After each alignment, the TKSA 41 automatically generates a customized report with notes and pictures available from its built-in camera. This camera also enables QR codes to be scanned for machine identification and access to the machine library to review past alignment reports or to start a new alignment process. The TKSA 41 replaces its predecessor, the widely used TKSA 40.