Continental Concludes Veyance Acquisition
January 30, 2015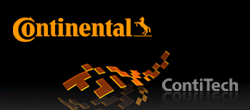 Veyance Technologies is now a part of ContiTech AG – Our merger makes us even better for our customers
We are pleased to inform you today that the regulatory authorities have approved Continental ContiTech's acquisition of Veyance Technologies, Inc.  With this approval, we can now join together the strengths of these two great companies in bringing advanced rubber and plastics solutions to our customers
We are excited to present a company that offers the greatest breadth of product solutions in our market, a global footprint that provides unmatched local resources, and a technical and process expertise that will speed groundbreaking innovations to our customers
From now on, our joint expertise in rubber and plastics will be united under the roof of the ContiTech Group.  We will build on the heritage, experience and past successes to enhance our capabilities and reinforce our mantra of "The Customer First, Always"
This announcement opens the door for significant changes and innovations, but some things will remain unchanged. Although we will replace the Goodyear Engineered Products  brand with ContiTech brands, the products, performance, and people that you have come to trust will not change.  As the integration progresses and makes new products and services available, we will clearly communicate these new features.
If you have any questions, please feel free to contact your Veyance or ContiTech representative.
We look forward to continuing our partnership with you as we move into the future.