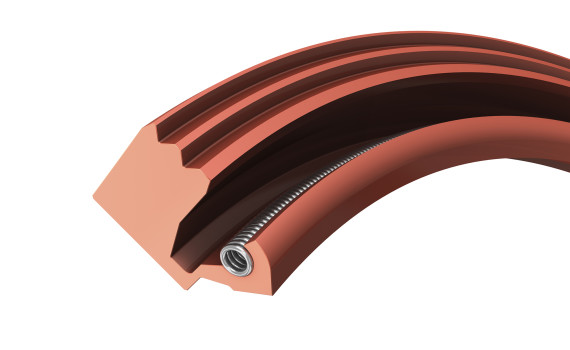 High performance polyurethane seals for wind turbines
Wind power has entered the mainstream. By the end of 2014 global wind generation capacity had reached 369.6 GW according to Global Wind Energy Council.
The share of wind energy in electricity production is expected to increase the coming years as wind has become increasingly competitive. Demand for wind will also shift to developing countries where there is an increasing demand in electricity.
To keep delivering on its potential, however, the global wind energy industry must maintain high levels of reliability and availability. As the number of turbines in use worldwide increases, operation and maintenance is becoming an ever more significant business. It is a challenge that is compounded by the fact that turbines are often installed in remote places, from mountaintops to offshore locations.
In modern wind turbines, the main shaft seals provide the first line of defence between the external environment and the critical main bearings and gearbox components. These seals play a dual role: protecting turbine components from contamination and stopping lubricants escaping into the environment. Now engineers at SKF have developed a new generation of seals – the HRS range – specifically to meet the challenges of the wind energy industry.
Light, compact and versatile
The machined polyurethane HRS seals weigh less and take up less space than labyrinth seal designs – a characteristic appreciated by equipment manufacturers looking to maximise space utilization and minimize the weight of turbine nacelles. They are available in three different designs to suit different applications. The HRS1 seal is designed to keep lubricant inside the turbine's bearing and gearbox, while coping with the large misalignments experienced in this kind of equipment. Depending on the size of the shaft, HRS seals can accommodate coaxial misalignment of up to 3mm. For applications where protection from external contamination by dust or moisture is also a priority, customers can add the HRE excluder seal to the HRS1, providing an additional external lip. Alternatively, they can use the HRSA version of the seal, which incorporates an auxiliary lip into its design.
The HRS seals are manufactured from G-ECOPUR polyurethane, which is an ozone, UV and water-resistant material that offers excellent wear resistance compared with the rubber materials commonly used elsewhere. In tests, the G-ECOPUR has proved to be five times more abrasion resistant than the next best performing elastomer material, a characteristic that translates into longer service life and less chance of premature failure. G-ECOPUR also allows the HRS seals to be machined with an exceptionally smooth surface. This means that the seals have less of a tendency to make grooves in the surface of the shaft, helping to maintain system performance over the life of the turbine. The seals' smooth outer surface, meanwhile, also prevents the leakage of lubricant between the seal and housing, a condition that commonly affects rougher phenol-impregnated fabric seals.
"In wind turbine design, seals haven't the highest priority," says María Concepción Martín Product Manager, Wind Energy at SKF. "But they have a high impact on system performance, which is why they have been an important area of focus for SKF. The new HRS machined polyurethane seals have been developed to deliver exactly what the wind energy industry needs: greater turbine reliability with reduced maintenance requirements in a cost effective package. And when seal replacement is eventually needed, these seals offer a quick, easy and safe solution."
A breeze to fit
The whole HRS range is available in solid or split designs. Solid seals are designed for installation during manufacture where operators can access the end of the shaft. Split seals are ideal for in-service replacement, or manufacturing applications where there is no access to the end of the shaft. The smooth outer diameter of the HRS seals also makes them easier to install than fabric reinforced seals, saving time and cost in manufacture or replacement.
Carefully optimized seal geometry means the sealing lip cannot contact the seal carrier, so minimizing the risk of inverting the seal or losing the stainless steel garter spring during assembly. Meanwhile, the design of the seals themselves, with stiffer materials further simplifies installation, saving up to four working hours per seal compared to alternative fabric designs.
For maintenance and repair applications, the split HRS seals are provided in special transport packaging that contains all the materials necessary to complete the job, a boon for service teams working in cramped and remote conditions.
Wide availability
HRS seals are manufactured in a full range of standard sizes to suit modern wind turbine applications and can also be made to meet specific customer requirements. The seals are already available through SKF's worldwide distribution network, helping to support manufacturers and operators that are working on an increasingly global basis. They can also be supplied as part of an integrated SKF solution that includes bearings, seals and lubrication.