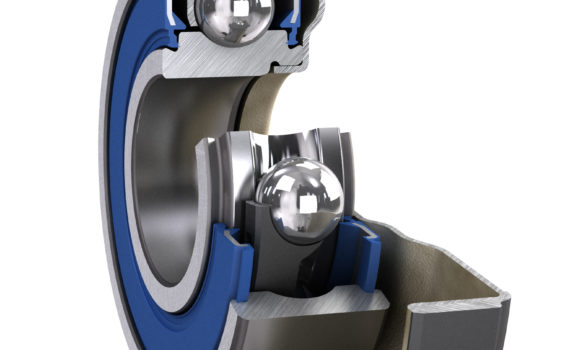 SKF at IZB: helping the automotive industry meet the challenges of electric powertrains
Advanced materials, deep application expertise and innovative component designs support the development of new electric and hybrid powertrains
Gothenburg, Sweden, 23 September 2016: At the International Suppliers fair (IZB) in Wolfsburg, Germany from 18 to 20 October 2016, SKF will showcase a range of solutions developed to meet the demands of automotive electric powertrains.
Pure electric vehicles (EVs) and hybrid vehicles are reaching the automotive mainstream. By 2020, higher production volumes and technological advances will mean electric vehicles are likely to be cost-competitive with their gasoline equivalents. By 2040, electric vehicles may account for 35 per cent of new car sales1.
For the industry, the electrification of automotive powertrains represents the biggest technological shift for a generation. Expertise from SKF is helping leading automotive OEMs and suppliers tackle many of the challenges they are encountering along the way.
SKF eDrive ball bearings, for example, have been developed specifically to address the need for consistently low friction, high speed and high power density in EV and hybrid vehicle electric machines. The bearings use the SKF-patented energy efficient E2 polymer cage, optimized raceway geometry, and a validated long life, wide temperature grease. Combined, these advanced design features help enable longer drive system service life and extend battery range.
Hybrid bearings, which combine steel rings with rolling elements made of bearing grade silicon nitride, have a number of advantages in EV applications. In addition to a longer service life and improved resistance to vibration, these bearings also have excellent electrical insulation characteristics, protecting drivetrain components from damage caused by stray electrical currents.
SKF has also developed a range of bearing units with integrated sensors that simplify assembly and improve reliability in electric powertrain applications. SKF Rotor Positioning Sensor-Bearing Units, for example, use a patented design that allows very precise management of the sensor-bearing unit air gap. As a result, the units are insensitive to severe magnetic field disturbances, and can withstand application vibration and continuous temperatures up to 150°C.
SKF EV and hybrid vehicle solutions can be fully customized to suit the needs of specific customer vehicle and powertrain programs, and SKF's experienced application engineers are able to offer intensive support from initial development through to series production.